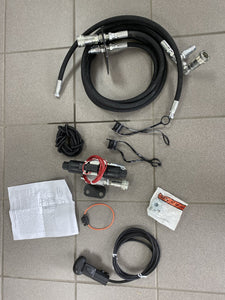 20 GPM
NOTICE: WHEN ORDERING THIS ITEM PLEASE INCLUDE A PHONE NUMBER WITH YOUR ORDER SO WE CAN VERIFY WHAT MODEL TRACTOR YOU OWN SO YOU GET THE CORRECT THIRD FUNCTION KIT.

W.R. Long provides valve kits for most subcompact, compact, farm, utility, and light industrial loaders.  Valve kits include the valve, handle with switch, hydraulic hoses with fittings, mounting bracket, and instructions.

 The electric hydraulic valve kit includes a molded hand grip with a rocker switch, which has three positions.  One position to open the attachment the second position to close the attachment and the spring return home position for no action.  The W. R. Long valve is connected to the power beyond port of your loader valve, therefore if your power beyond port is active when your loader is operating then the W. R. Long valve will operate your attachment when your loader is operating. With this in mind the valve kit is a true third operation, therefore you will be able to raise/lower, dump/curl, and open/close your bucket all at the same time.  The molded hand grip is designed to slide over your loader joy stick and is secured with two set screws.  The kit includes a mounting bracket to mount the valve to the tractor, hoses, and instructions.  We also call this our rocker switch valve kit.
This item - Free Shipping (Continental United States Only)